If you're still looking for a gift this holiday for that special sporty girl, look no further! Yesterday I jumped into a thorough women's gym bag search in desperate need of something before I leave town on Saturday. I decided to go with a cute and stylish gym bag instead of a true carry-on because of have been literally using a sporty Puma purse for all my gym and wrestling gear these last few months. It is really tiny and defiantly won't do for much longer. Happily, I came across a lot that I loved, and decided to do a blog about my findings. Since I don't have time to order online, I am going to have to get to a few locations today and see what I can find. Check out what I am loving!
$20
This little beauty is on the smaller side. I love the pockets on the exteriorthat are flat and add texture and design to the front of the bag. It is convenient to put something like a phone, water bottle, or MP3 player in when on the move. The interior has multiple organizational pockets and the long and short handles are perfect for carrying different ways. The best part of this bag is that right now it is on sale for $20. It comes in black and silver as well, and would be a perfect gift for this season. I may need to order this just because it is such an amazing price!!!
$65
A more traditional gym bag, this one comes in neon green and purple colors. Water resistant and durable with multiple compartments. Perfect for those who just want a touch of femininity to their bags.
$135
I am always impressed at how Under Armour keeps up with current trends. I love this sleek black bag for it's classiness and durability. It is understated but comes with many bells and whistles. A separate side shoe compartment, a removable laundry bag, a computer tablet sleeve, and even a heat durable pocket to store a still warm hair iron when you are in a hurry. Although the price reflects this accessory, it is surely a statement athlete piece.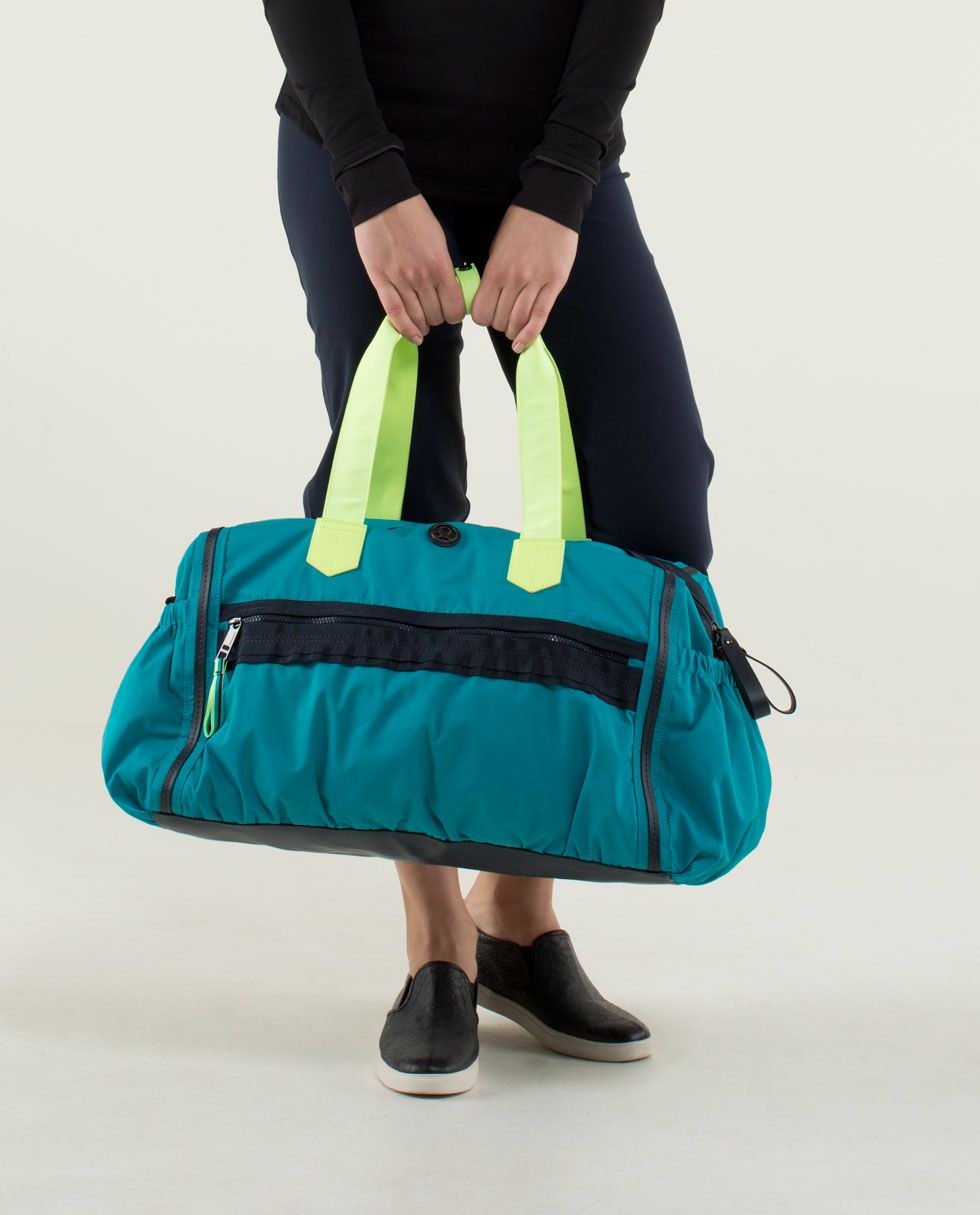 $148
LuluLemon is definitely a front runner of fashionable fitness and yoga bags. With many to choose from each season, I choose this one to highlight because of it's soft traditional style. Lulu often makes hard shelled bags, which are lovely, but I am not in the market for this month. I want something durable and compact-able (in case I need to pack it down into my suitcase). I have also noticed how the hard shelled bags wear on the corners if you don't treat them with a lot of TLC.
$149
For the ultra girly-girl. This lovely bag comes in vegan leather and sports a yoga mat holder, a clear jewelry pocket, a laptop compartment, a separate shoe bag, and a phone pocket inside. The designer of oGorgeous Bags is a fellow fitness blogger who has been blogging for many years and succeeding a the highest level!
$65
Moving back into a reasonable price range is another cute Puma bag! Puma has really been getting it for me today. This bag zips closed securely below the handles and sports multiple interior pockets and a key holder cord. It also comes in two other bright and girly colors!
Please let me know if there are other amazing and cute gym bags you know of in the comments below! I am heading out to hunt for a bag I can leave town with on Saturday, and I am hoping that I find something!